I want to apologize for my long absence. Not only have we been having some web server problems, but the shortened days have made it very difficult for me to take pictures, since my sub-par camera means I need the sunlight. Rest assured, I have been eating well, and on the occasion of my birthday, decided it was time to get back in gear.
I made several dishes for a potluck Thanksgiving dinner I attended, including a pumpkin pie with assorted goodies. Having decided that coconut milk would be just right, I was going to improvise my own recipe when someone posted one from The Savvy Vegetarian that was just like what I had in mind, so I went ahead and used that one. Then I roasted the pumpkin seeds (sweetly this time) with the idea that they might make a good topping. The next day, having chilled the pie sufficiently, I considered how nice a whipped topping would be, so I used the leftover tofu and coconut milk to attempt one, but while it would have likely been perfect out of a whip-it (and was quite delicious), it was too thin on its own. I thickened it a bit with some tapioca before deciding to just call it a sauce. It worked wonderfully on the pie as well as on the apple crisp I'd also made.
Yay for experimentation! Click through for the many recipes.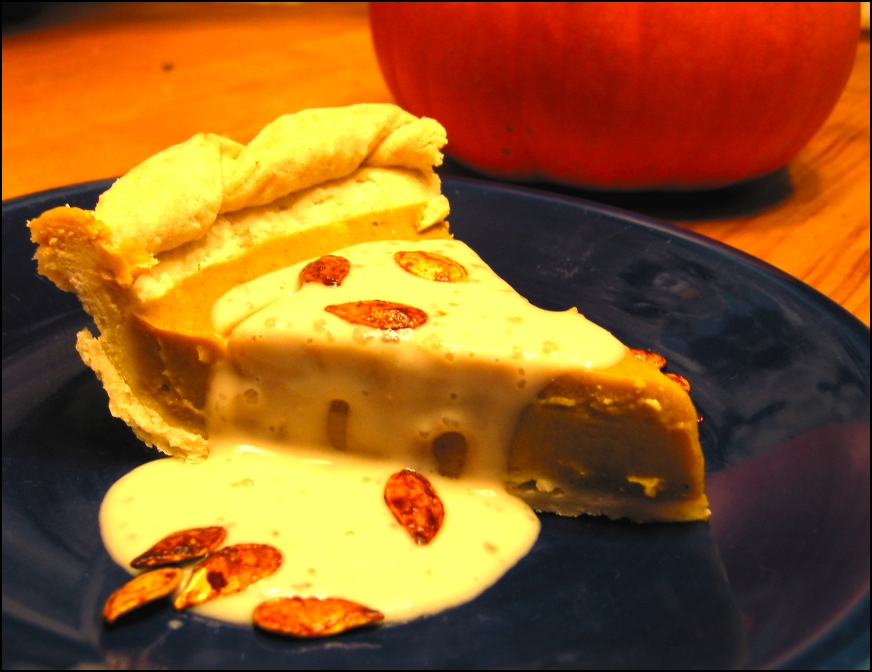 Pumpkin Pie
1 3/4 cups fresh pumpkin puree (see below)
1/2 cup coconut milk
1/2 cup silken tofu
2 Tblsp cornstarch
1 tsp vanilla
3/4 tsp. cinnamon
1/8 tsp nutmeg
1/8 tsp cloves
1/2 tsp salt
3/4 tsp ginger
2 Tbsp maple syrup
1/2 c. sugar
2 Tbsp flour
1 pie crust (see below)
Blend all ingredients except the flour (and the pie crust, duh) in a blender until smooth.
Lightly coat the pie crust with flour and pour in filling.
Bake in a preheated oven at 425

°

for 10 minutes, reduce to 350

°

and bake an additional 30 minutes.
Allow to cool completely (ideally, chill) before serving along with vanilla sauce and sweet pumpkin seeds (see below).
Pie Crust (for one two-crust or two one-crust pies)
I've been making this pie crust for years. It's a pretty standard recipe and it just works, but I'm sure your favorite recipe will work just fine, too. I find it pretty straightforward, but I know a lot of people have trouble with pie crust, so let me know if you have specific questions, since I know I'm being brief here. I've taught a number of people, so if you're local and need help, drop me a line.
2 2/3 cups flour
1 tsp salt
1 cup shortening
7-8 Tbsp ice water
Using two knives or a pastry blender, cut the shortening into the flour and salt until mixture resembles coarse crumbs.
Tossing gently with a fork, add the water one tablespoon at a time until the dough will hold together. If you want to be fancy, you can also use a water sprayer for this part.
Gather the dough into two equal balls and refrigerate while you're not working with it.
Carefully roll one of the balls into a circle about 1″ large around than your pie plate. A flexible cutting board makes a great surface for this step, or use a piece of wax paper, parchment paper, or plastic wrap. Why? Because the easiest way to get it into the plate is to flip the plate onto the crust, flip the whole thing, and peel away the board/paper/plastic.
Carefully press the dough into the plate, taking care not to stretch it, and crimp or shape the edge as you desire. Keep refrigerated until ready to use.
Five-Minute Maple-Vanilla Sauce
12oz silken tofu, minus 1/2 cup
1 can coconut milk, minus 1/2 cup
1/4 cup maple syrup
1/2 cup powdered sugar
1 1/2 tsp vanilla
pinch of salt
2 Tbsp tapioca (optional)
Blend everything except the tapioca, adjusting sweetener and vanilla to taste.
If you want to thicken the sauce a bit, pour off about 2/3 cup of the sauce, mix in the tapioca, and microwave to boiling, then mix back in with the sauce.
Mashed Pumpkin
Cut a pumpkin in half, remove the stem, scoop out the guts, and place cut side down in a baking dish with about 1/4″ water. Bake at 350° for 1 hour (until tender), allow to cool, and mash or mill the pumpkin (sans skin, of course). If the pumpkin is very moist, let it sit in a cheesecloth-lined strainer.
Maple Spiced Pumpkin Seeds
pumpkin guts
1/2 Tbsp vegetable oil (like canola or safflower)
1-2 Tbsp maple syrup
1/2 tsp salt
1 tsp pumpkin pie spice (ie, cinnamon, ginger, nutmeg, and cloves)
Separate the pumpkin seeds from the guts&stuff as best you can (no need to rinse or get anal about it).
(Optional step, but I think the results are better this way.) Spread the seeds out on a cookie sheet and leave to dry for a few hours or overnight. (The oven (turned off) is a good place for this.)
In a bowl, mix the seeds with the oil, maple syrup, salt, and spices. Spread on a cookie sheet and put in a 300° oven for 45 minutes or until done. Use a spatula to toss the seeds every 10 minutes or so and keep tasting.
Cool on parchment or wax paper to prevent sticking.