Is the food blog back?  We'll see, but for now, here's something: my first ever stuffed shells!  I've been wanting to make these for a while and finally assembled all the ingredients.  The roasted tomato awesomesauce was part of the large quantity I put by in the freezer last summer, the chard was from the first farm share pickup of the season, and the basil came from the porch garden.
As it often my way, I looked at an assortment of recipes and combined them into something I thought would work.  The "ricotta" is mostly a cross between two different recipes in Veganomicon.  My original plan was to mix in spinach, but since I had the chard, used that.  Good thing, too, because without it, I would have been pretty short on stuffing, so definitely pick a green, or if you can't stand the idea of vegetables mixed in, make extra ricotta.  You could also modify this recipe slightly for lasagna, which would maybe be a little less fancy but also save the stuffing time, though you'd have a higher pasta ratio.
The end result was quite delicious and I would definitely like to make this again.  Leftovers have been fantastic.  Even with the work of stuffing the shells, it was still pretty fast, and the most time-consuming part was our friend M. (who is a wonderful person, but a little slow in the kitchen) tearing and washing the chard.  But if you use frozen greens, this is *really* fast.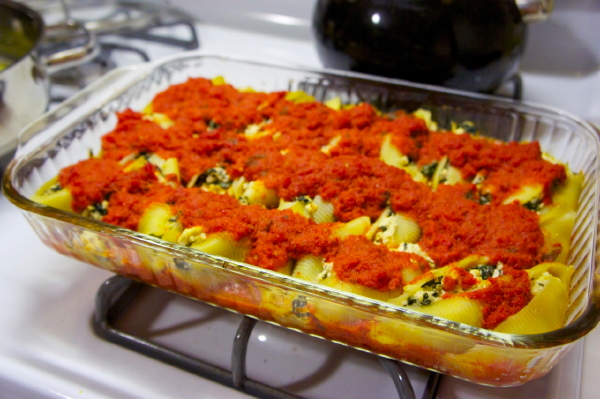 Stuffed Shells
for the stuffing
1/2 cup raw cashews
1/4 cup lemon juice
1/4 cup nutritional yeast
2 cloves garlic
2 Tbsp olive oil
1.5 tsp salt
1 lb extra firm tofu, excess liquid pressed out
handful basil leaves, chopped
cooked, chopped, drained chard (or thawed, chopped, and drained package of frozen spinach)
for the chard
2 bunches chard or spinach or similar leafy green, rinsed and chopped/torn into bite-sized pieces
2 cloves garlic, chopped
olive oil
and
1 box giant pasta shells
1 quart tomato sauce (perhaps I will someday post my recipe, but you can use store-bought, too)
Do this
Cook the shells according to package directions in well-salted water.  Drain and rinse in cool water.
Cook the chard: Saute garlic in olive oil over medium heat for a couple of minutes, then add chard, sprinkle with a little salt, and cover.  Stir as needed and when chard is darkened and cooked through, uncover to cook off excess liquid and/or squeeze it out.
Blend the first six stuffing ingredients thoroughly and transfer to bowl.  Crumble in tofu and mix well to ricotta-like texture.  Stir in the basil and chard and keep mixing until the greens are all through.
Cover the bottom of a 9×13 baking pan with ~1/3 of the sauce, then fill the shells (I used a regular spoon) and line them up in the pan.  This recipe was just right to stuff enough shells to fill the pan, though I had a bunch of empty shells left over.  Maybe they give you extra to account for breakage?  I dunno.  Pour the rest of the sauce over the top.
Bake at 350 for 35 minutes.