In the past couple of years, I've made my first attempts at yeasted breads and they've all turned out pretty well. It's been mostly pizza dough with the occasional sweets such as cinnamon rolls and king cake. This summer, I started to think about bread more. The "problem" with bread is that not only is it pretty cheap to buy (even good bread), but making it also requires planning. The combination of these two issues has definitely been a challenge for me, but I'm working through it. And of course, there's the other issue of just not having much of a clue, but luckily, there are books and the web.
This recipe is from Ultimate Bread by Treuille & Ferrigno. I've found this book useful both for its breadth of recipes as well as detailed instructions concerning all the steps of the process. It was also already in the house, and thus won on convenience. I'd still like a copy of The Bread Baker's Apprentice (and Crust & Crumb) but this will have to do until there is more discretionary income.
Pide is a Turkish seeded bread. I did not have the seeds the recipe called for (nigella), so I used white sesame seeds on one and zaatar on other. This is a delicious, simple, and versatile bread, which worked great not only for eating alone, but also in strips alongside soup or dip or spread with Spiked avocado or even split the long way as a base for toaster oven pizza using assorted leftovers. It was just like French bread pizza.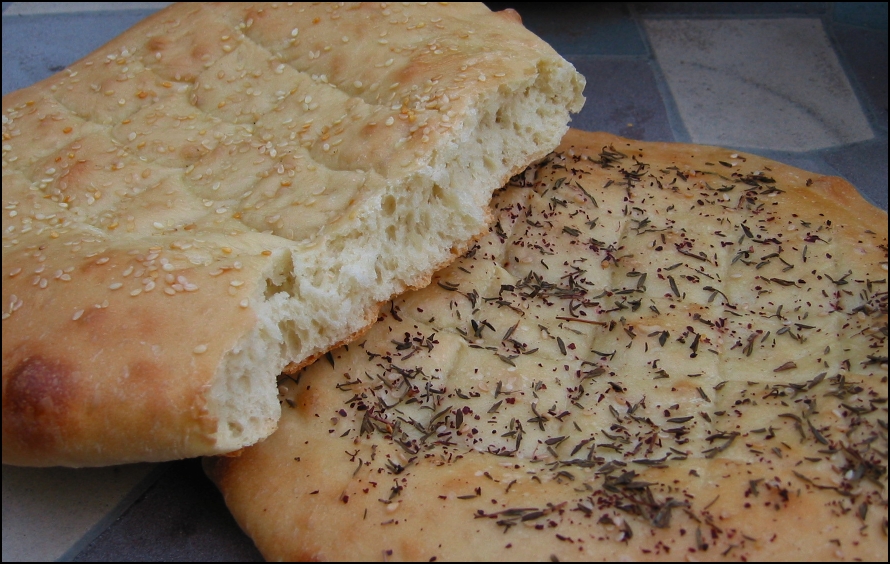 Pide
Ingredients
2 tsp dry yeast
1/2 tsp sugar
1 1/2 cups warm water
3 1/2 cups unbleached white flour
1 tsp salt
2 tbsp olive oil
nigella seeds (or sesame seeds, zaatar, etc)
1. Sprinkle the yeast and sugar into 1/2 cup of the water in a bowl. Leave for 5 minutes, then stir to dissolve.
2. Sift the flour and salt together into a large bowl. Make a well
in the center and pour in the dissolved yeast and the olive oil.
3. Mix in the flour. Stir in the remaining water, as needed, to form a firm, soft dough
4. Turn the dough out onto a lightly floured work surface. Knead until smooth, supple, and elastic, about 15 minutes. (Initially, the dough will be quite stiff. It will soften and stretch gradually as you continue kneading.)
5. Put the dough in a clean, oiled bowl, turning it to coat evenly with the oil. Cover with a dish towel, then let it rise until doubled in size, about 1 1/2 hours. Punch down, then let it rest for 10 minutes.
6. Divide the dough into two equal pieces. Roll each piece into a smooth ball. On a lightly floured baking sheet, roll out each piece of dough to form a ~10″ round, ~1/4″ thick. Cover with a dish towel and proof for 20 minutes.
7. Use the blunt edge of a knife draw four parallel lines across the top of each dough round, then four more perpendicular to those to make a criss-cross pattern. They, uh, should be deeper than mine were.
8. Brush the rounds with a soymilk or water glaze and sprinkle with your topping of choice.
9. Bake in a preheated oven at 425 for 10-15 minutes, until puffy and lightly colored.
Optionally (but I always like to), add steam. When the bread is put in to bake, use a mister to spray the sides of the oven with water. Do it again after two minutes, then after another two minutes for a third time. This improves the texture of the crust.
Pictures from my first try, when I scored too gently:
Before baking: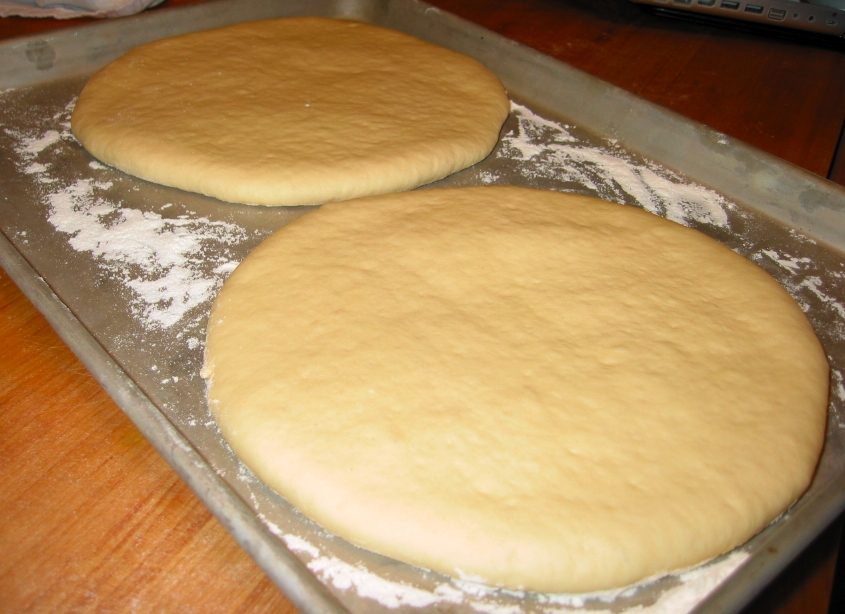 After baking: