As we take over the world, one cupcake at a time…
Even though I'd recently acquired Vegan Cupcakes Take Over the World, I didn't have it handy when I started baking so the body of these is standard "Wacky Cake". By the time they were in the oven, I was able to ponder my frosting option and chose Peanut Buttercream, but I'd made a double batch of cupcakes and only a single of frosting so I didn't have enough to pipe. I added the streaks of chocolate syrup and the peanuts for visual interest, since the frosting was a fairly bland color, and I also like when a garnish reflects what's inside.
The cupcakes were delicious, and the peanut butter and chocolate definitely worked well together (to nobody's surprise). Next time, I'll do a lot more frosting and use it to fill the cakes.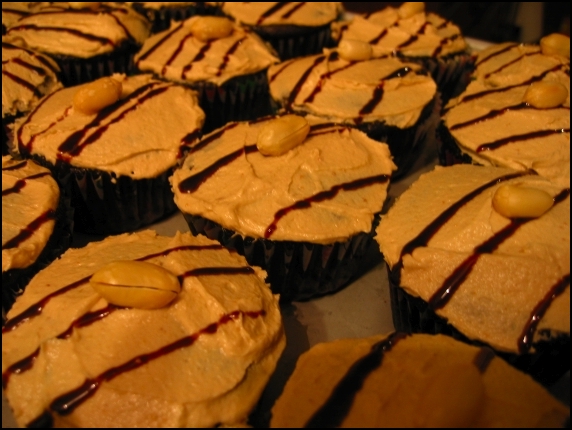 Wacky Cake (traditional recipe)

Ingredients:
1 1/2 cups flour
1 cup sugar
1 teaspoon baking soda
1/2 teaspoon salt
3 tablespoons cocoa
1/3 cup cooking oil
1 tablespoon vinegar
1 teaspoon vanilla
1 cup cold water
Mix dry ingredients and wet ingredients separately, then together. Pour into lined muffin tins 2/3-3/4 full and bake at 350° for 20-25 minutes or until done.
Peanut Buttercream (from VCTOTW)
Ingredients:
1/4 c maragarine, softened
2 tbsp shortening (EB sticks are the best for this)
1/3 c creamy peanut butter
1 1/2 tsp vanilla extract
1 1/4 c confectioner's sugar, sifted
1 to 2 tbsp rice milk, soy milk/creamer, or water
With electric handheld mixer, cream together margarine and shortening at medium speed til smooth. Add peanut butter and vanilla, and beat until very smooth, 2 to 3 minute. Beat in sugar; mixture will be very stiff. Dribble in liquid a little at a time, beating continuously til frosting is pale tan and very fluffy.
Adjust the thickness of the frosting by adding liquid or more confectioner's sugar in small increments if necessary. —
I highly recommend Vegan Cupcakes Take Over the World. Not only are the recipes great and the authors wonderful people, but it's a beautiful book with fabulous pictures, so even those who don't actually cook can enjoy it.