On a beautiful summer day, I wanted some freshly baked bread so decided it was time to take my first shot at focaccia. I searched many recipes and ended up combining aspects of several of them. The result was not quite the texture I was aiming for, but it was still light, flavorful, and delicious. I incorporated rosemary from my home garden (the top of the plant is visible to the right of the olive oil) in the dough as well as on top and also topped it with onions made from my farm share caramelized with some maple syrup and red wine.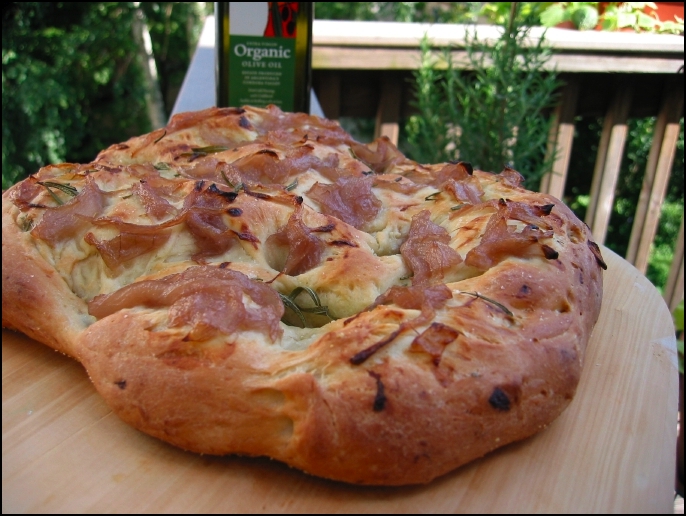 Focaccia (multiple sources)
I can't remember exactly how I made this, so some of these numbers may be off.
Ingredients:
1 tsp sugar
2 tsp active dry yeast
1 cup warm water
2.5 cups flour
2-3 tbsp olive oil
3/4 tsp salt
3 tsp chopped fresh rosemary
caramelized onions
Combine the water, yeast, and sugar and let sit for a few minutes to foam, then mix with the flour, salt, and half the olive oil. Knead the dough until it is smooth and slightly sticky, then cover and allow to rise until doubled (about an hour).
When the dough has risen, punch it down and knead briefly, mixing in 2 tsp of the rosemary, then stretch or roll it on a parchment-line baking sheet. Cover and let it rise for 30 minutes.
Using your finger, poke holes all over the dough, then sprinkle with remaining olive oil and rosemary, some coarse salt, and as much of the caramelized onions as you can fit.
Bake in a 400° oven for 30-40 minutes until golden brown and as crispy as you like it.
Caramelized Onions (improvised)

Ingredients:
onions (as many as you like)
olive oil for the pan
maple syrup to taste
2 splashes red wine, more or less
pinch salt
Cut onions into thick slices and sauté in a little olive oil over medium heat with pinch of salt. When the onions have softened, add a drizzle of maple syrup and continue to cook. Once everything is nicely browned, use some red wine to deglaze and you're done.