This is one of my staple dishes. It's easy to make and works with any number of veggies, so it's great for using up whatever might be around in a simple, healthy way. The only things I pretty much *always* include are onions and garlic. It's gone over very well at potlucks and barbecues, too. I'm almost embarrassed to admit how easy it is given how well it's been received.
Seasoning can always be adjusted as desired, but Spike is always a good bet.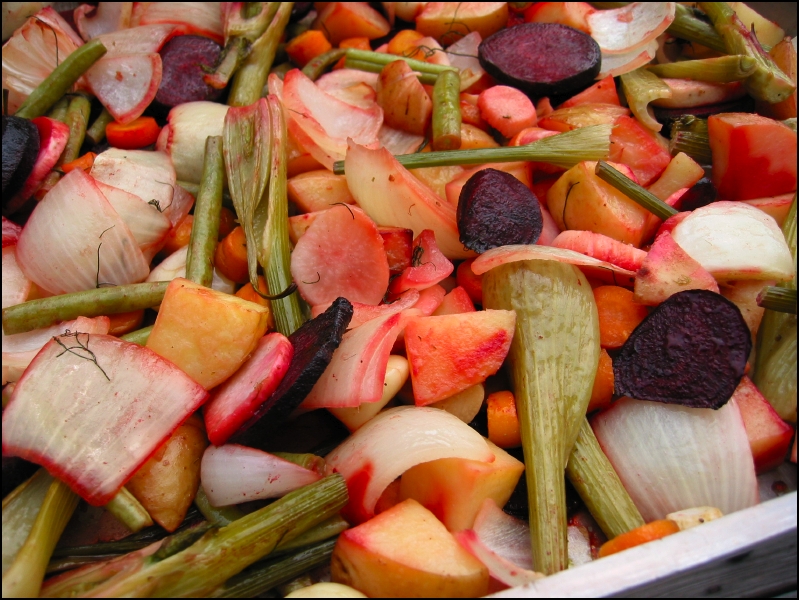 Oven-Roasted Vegetables
Ingredients
onions, peeled and quartered
beets, scrubbed and sliced
harukei turnips, scrubbed and sliced
fennel, trimmed and halved (I also mixed in a bit of the tops)
little white potatoes, scrubbed and quartered
carrots, scrubbed and sliced
garlic cloves, peeled
Spike all-purpose seasoning
Preheat oven to 375° while the veggies are prepped.
In a roasted pan (or use a bowl, then transfer), mix everything but the garlic with olive oil and Spike (hands are the best tool for this) and put in the oven. After 15 minutes, add the garlic and mix gently. In another 15, mix again. In another 15 (45 minutes total), it's all done.
Before roasting: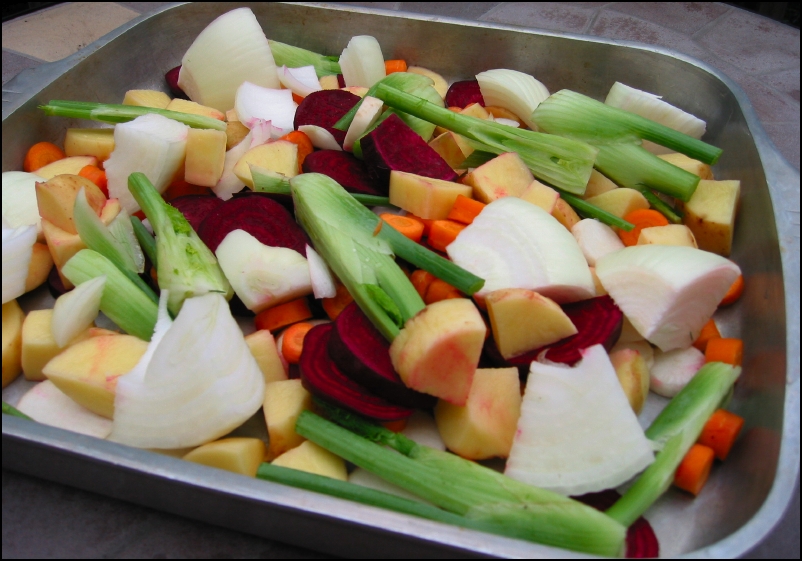 Serve with rice, in a wrap, eat cold the next day, or anything else you can think of. Other vegetables that work particularly well in the mix are pretty much any squash or pepper.
(Occasionally, I'll throw it in a blender with some stock to make roasted vegetable soup, but this time it all got et as-is, so that will have to wait for another entry.)