Over Labor Day weekend, my roommate and I hosted a barbecue, and since everyone knows I can't host an event without some sort of schtick, I rented a tank of liquid nitrogen to make ice cream, and thus was born the Ice Cream Barbecue. Many of my friends are familiar with this method of freezing because of a long-running annual event that features the stuff, but I was unable to attend this year due to a theater gig, so this was my alternative. By the time the tank was gone, a total of 24 flavors had been made, and half of them were vegan! Which was, of course, awesome.
One of the flavors I made after the crowds were gone was this maple praline pecan. I found the praline recipe as part of another ice cream recipe and just winged it for the base. Don't be fooled by how embarrassingly easy it is! Even cow's milk folks loved this stuff and many assumed it was dairy even knowing I'd made it.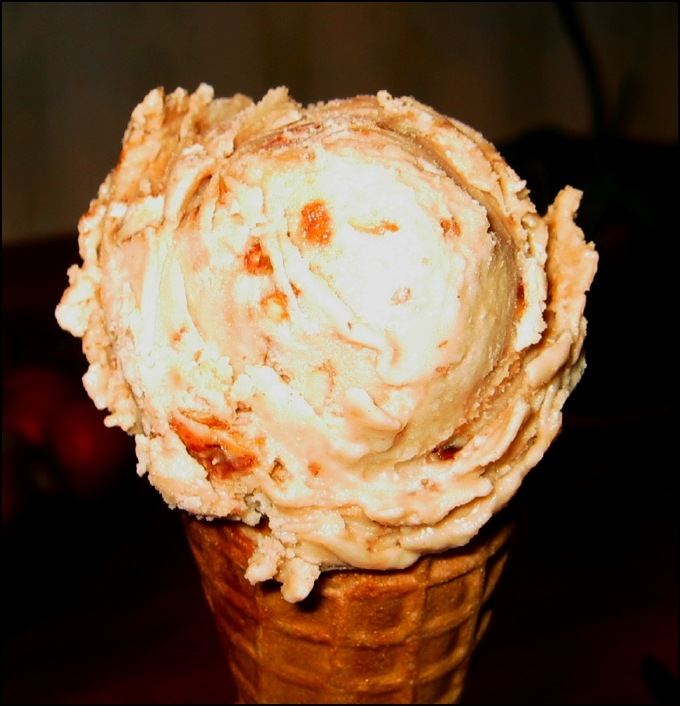 In addition to the recipe, I've also included a (very) brief run-down of various ways to freeze ice cream.
Maple Praline Pecan Ice Cream
Ingredients
Base
One can coconut milk (unsweetened — just the regular kind)
One pint plain soy creamer (I used Silk)
1/2 cup maple syrup (plus or minus)
Blend or mix until smooth. Taste and adjust maple syrup as needed: you should be able to taste it and the blend should be a just a little sweeter than you'd prefer, since it will feel less sweet when frozen. Different maples will have different levels of flavor and sweetness. I always use Grade B.
Pralines
1/4 cup brown sugar
1/4 cup water
1 tsp. oil
pinch salt
3/4 cup chopped pecans
Boil everything except the pecans together for 2-3 minutes in a small saucepan until the mixture visibly thickens. Add the pecans and continue to cook, stirring constantly, until the liquid is almost all gone and just coats the pecans in gooey goodness. Spread out in a thin layer on parchment or wax paper to cool completely. Break up with your hands.
Using your preferred method*, freeze the base. When it is almost done, but still soft enough to mix, mix in the pralines and finish freezing. I also added a ribbon of maple syrup with final stirs.
Scoop and eat. So yummy.
*Freezing Methods (in brief)
Liquid nitrogen is, in my opinion, the most fun way to freeze. Put the mix in a large metal bowl or plastic bucket and, wearing work or winter gloves to protect your hands, pour in some LN2 and mix using a large, sturdy metal spoon. Keep adding more LN2 as needed.
Use an ice cream maker if you have one. I shouldn't need to explain this one — follow the directions it came with.
The ice & rock salt method can be done even without special equipment beyond plastic bags. Put the ice cream mix in a double later of quart-sized zip-top bags, then put that inside a gallon bag. Add a mix of ice and salt to the outer bag, seal, and shake around until frozen. Google around for more details.
As a las resort, just pour your mix into a 9×13 baking pan and put that in the freezer. Every 20-30 minutes, take it out and mix the mix well to reduce ice crystals.