These corn muffins represent the first recipe ever I tried from the good folks at The Post Punk Kitchen. Isa's recipe is fabulous, though too sweet for my tastes so I cut down the sugar and make other minor mods like adding whole kernel corn. I like the added texture of the corn and also use it as a garnish. These are always a big hit at potluck events, so for a hot foods party, I made a spicy version with the addition of chipotle chilis in adobo sauce. Then I made a batch of each for a tasting party. The chipotle provides a nice smoky hotness that doesn't sting, but really builds with each bite. Mini-muffins, which are wonderful in any context, are especially nice for a potluck when a full-sized muffin might be more than one person wants to eat. But everyone can eat a mini!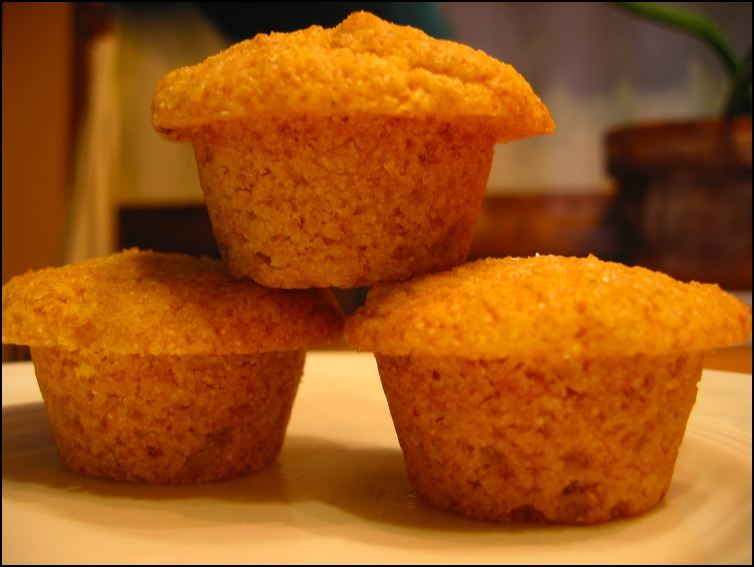 Mini Corn Muffins (Sunny or Spicy)
Ingredients

1 cup flour

1 cup cornmeal

1 Tbsp baking powder

1/2 tsp salt

1/3 cup sugar (if you like your muffins very sweet, use more)

1/2 cup safflower or canola oil

3/4 cup soymilk

2 Tbsp soy yogurt

1 tsp vanilla

1/4 tsp finely grated lemon zest (I've subbed ~1 tsp lemon juice in a pinch)

(Optional) 1-2 chipotle chilis with 1-2 tsp adobo sauce

(Optional) 1 cup frozen (or fresh) corn
Preheat oven to 400.
Sift all the dry ingredients (flour, cornmeal, baking powder, and sugar) into a large bowl.
In a separate bowl, whisk together the wet ingredients, except lemon. (If using chilis, first put them in a mini food processor or chopper with the soymilk or chop finely by hand and then mix in.)
Fold the wet ingredients into the dry, add the lemon and distribute well. Gently fold in the corn.
Oil muffin pans (sprays work great for this) and fill each 2/3 full. If you like things pretty, top each muffin with a single kernel of corn or a light dusting of large-crystal sugar. Bake for 15-20 minutes for min-muffins or 20-25 minute for regular-sized, until a toothpick comes out clean or the tops are beautifully golden, or you simply run out of patience.
These are great warm with a shmear of Earth Balance.