I've been slack about the "On the Town" portion of this blog because I keep forgetting to bring my camera to and/or take pictures at relevant places, but I finally managed one!
Menotomy Beer & Wine (for those of you who might have raised an eyebrow at the location) is the first store licensed to sell alcohol in the town of Arlington, MA since Prohibition. For those of you who've never lived anywhere near Massachusetts (or Utah), let me assure you that I Am Not Making This Up. For more context on Arlington, the Red Line ends at Alewife because back when it was extended, Arlington refused to slum it by allowing a stop within their hallowed borders. But I love Arlington. Living just a few blocks from the line, my walks often range into their territory and I've frolicked in Spy Pond more times than I count. And I love Menotomy Beer & Wine (hard liquor sale are still verboten), and the fact that I can walk there easily.
Walking there is key because they host a weekly Beer Tasting (Friday) and Wine Tasting (Saturday), and I'm a lightweight. Last week's were lovely, offering five beers and seven wines, respectively. I love these events because they offer the opportunity to try and learn about varieties that I would not likely be expose to otherwise, and there is usually at least one that I put on my list of things I should have more of. Details and more photos can be found behind the cut.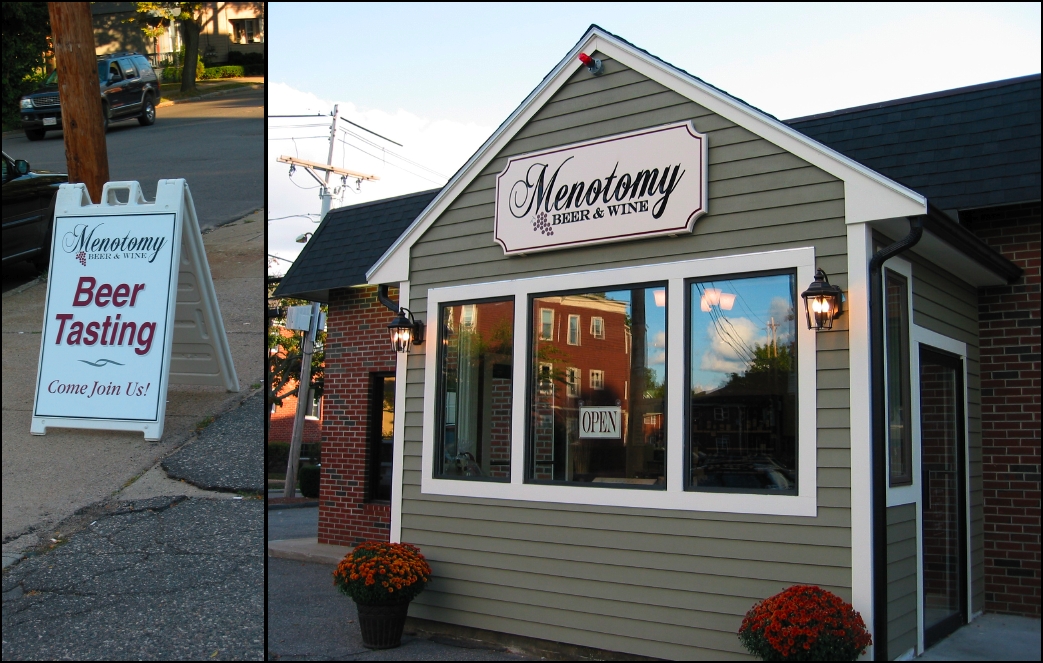 Beer Tasting: 9/28/07
Friday's Beer Tasting was a little odd, in that three were from the same brewery. The offerings, from left to right, were Krusovice Cerne, Smuttynose Old Brown Dog Ale, Smuttynose Portsmouth Lager, Smuttynose IPA, and Peroni Nastro Superior.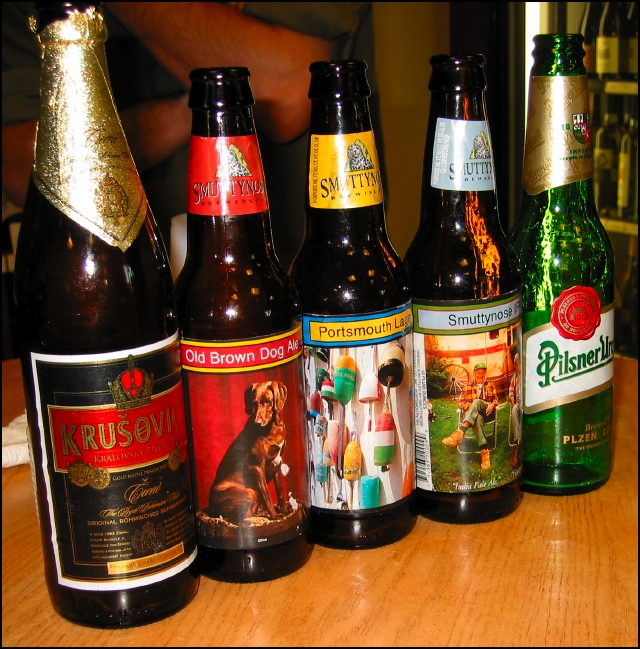 Luke, the resident beer expert, was affable and friendly in presenting the assortment, but to be honest, none of the Smuttynoses appealed to me. The Peroni was a perfectly adequate pilsner, but pilsners don't thrill me. The Krusovice, on the other hand, was wonderful! I definitely recommend you check this out, whether you're a big fan of beer (like my roommate) or not really a beer person (like me), because it is, I think, the first beer ever that we've both really enjoyed.
Luke had the following to say about the Krusovice:
The Czech Republic makes awesome beer. Their beer isn't simply awesome, it's often revolutionary. They're responsible for pilsner, they brew fantastic light beers, and they also know how to cook up one mean "schwarzbier." Schwarzbier simply means "dark beer" and it's well known for its coffee and chocolate flavors, low alcoholic content, and easy drinkability. The Krusovice version also happens to be fizzy, meaning it's not like drinking chocolate milk or dessert. This is no joke: Johann Wolfgang von Goethe (the guy responsible for the epic Faust drama) absolutely loved schwarzbier. He loved it so much he wrote about it a number of times in his journals. He was also a philosopher and a musician, basically an all-around genius. Krusovice Cerne just might make you a genius, too, but I'm not promising anything because the last thing I need are lawyers breathing down my neck
He also gets points for scritching Molly during his cigarette break.
Wine Tasting: 9/30/07
Saturday's Wine Tasting was also a bit odd, as instead of the five varieties previously listed, there were seven, and the one I liked best was not on the list, so my information is limited to what is visible in the photo. From left to right, we tried Fairview Sauvignon Blanc (South Africa), Four Vines Naked Chardonnay (California), Borgo M Tocai Friulano (Italy), Casa Julia Cabernet Sauvignon (Chile), Este de Bodegas Alto Almanzora (Spain), Coto de Hayas Campo de Borja (Spain), and Alamos Malbec (Argentina).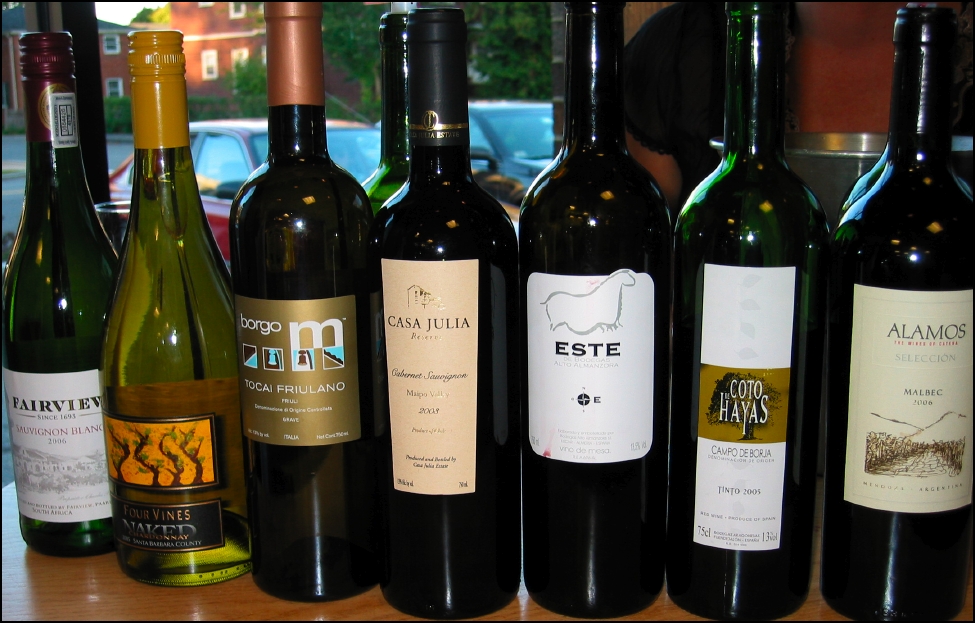 Mary, also affable, did not seem to be quite as knowledgeable about wine as Luke was about beer, but the shop does have other wine folks around. For example, after the tasting, we had a very nice conversation with Jean who answered a number of questions for us. (Mary also did not scritch Molly, but that was only because she did not come outside. She did admire Molly out the window, though.)
My hands-down favorite of the bunch was the Tocai. I think it was also my first Tocai, and even the white-haters (what the hell is it with wine snobs who turn up their noses at white wines?) seemed to enjoy it. It has a bright, fruity flavor and I recommend it highly.
If you're local, stop by Menotomy Beer & Wine to pick up a bottle of the Tocai or Krusovice (or something else), and don't forget to tell 'em that Frog Food sent you. 🙂