For a few weeks, we've been getting tomatillos in the farm share and, as strangely cool as these weird little things with their papery husks are, I didn't really know what to do with them.  Once  had a couple of pints (which later turned into three), I knew something had to be done so I decided to use it all to make a big batch of salsa verde, aka green salsa, aka tomatillo salsa.   Googling around turned up this recipe, which looked good to me so I stole it almost verbatim.  As an added bonus, I used  share cilantro that I'd previously frozen into ice cubes as well as share onions I'd chopped and frozen.  It all worked out quite well.
In addition to eating it with chips (shown are Trader Joe's Flax Seed Tortilla Chips), I think it'd work very well over quesadillas or other spicy dishes.  Last night, DD and I grilled some tempeh rubbed with a hot cajun mix and the salsa made for an excellent topping.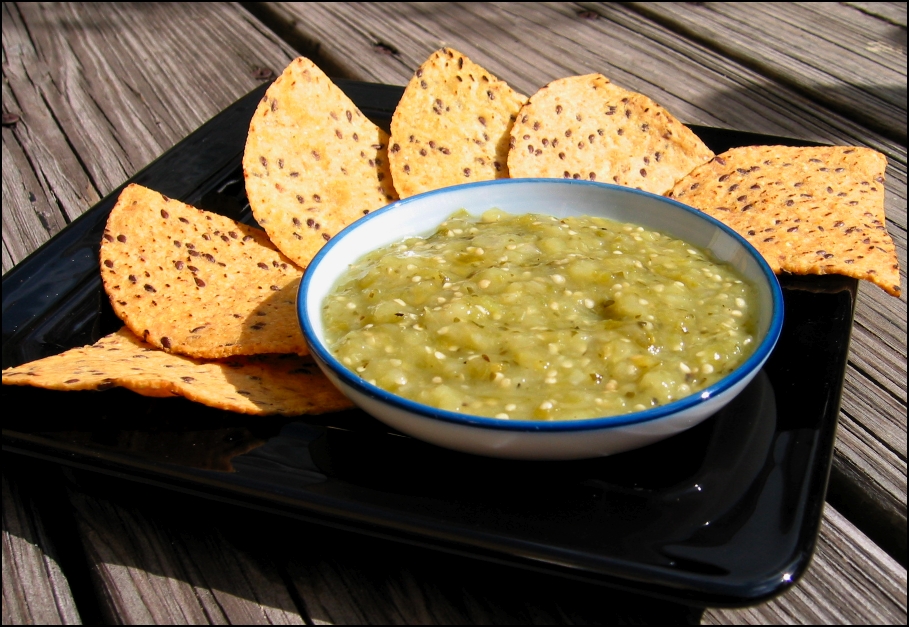 Salsa Verde (Tomatillo Salsa)
Ingredients
3 pts tomatillos
1/2 cup chopped white onion
1/2 cup fresh cilantro
1 Tbsp lime juice
1/4 tsp sugar
3 jalapeño peppers, stemmed, seeded, and chopped
1/2 tsp salt, or to taste
Remove papery husks from tomatillos and rinse well in warm water to wash off the weird sticky coating.  Cut in half, coat lightly with olive oil, and place cut side down on a roasting pan or cookie sheet.  Broil for 5-7 minutes, or until the skins have started to blacken and bubble.
Put tomatillos in a blender (or FP) along with the remaining ingredients and mix until smooth.  Cool and serve.