Beware these cookies: they can be dangerous! Chewy, and delicious, and so rich, it's hard to eat more than one or two at a time, but as soon as you're able, you'll want more. Another gem from Isa at The Post Punk Kitchen, the original calls for too much sugar (as do many of her recipes, but it's a minor flaw that is easily corrected), but other than that, these cookies are pretty much perfect.
I have no doubt one of the keys in these in particular being so yummy is the really good Dutch process cocoa that my roomie acquired at Amsterdam's Schipol Airport during a layover. While I'm sure you could get yummy results with regular cocoa, it would throw off the acid balance and who knows what might happen.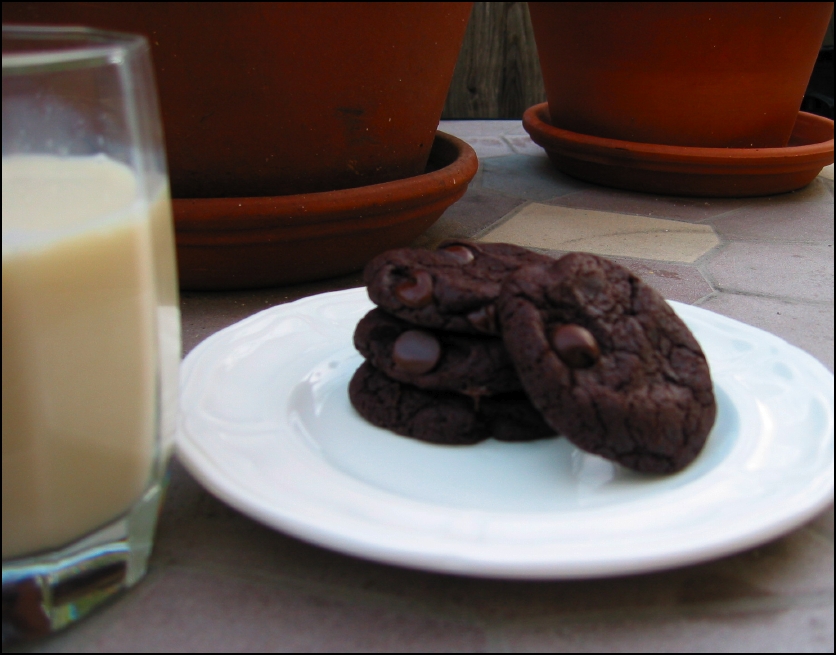 Chewy Chocolate Chocolate Chip Cookies
Ingredients
1 Tbsp flax seed meal (or 1 Tbsp + 1 tsp whole flax seeds)

1/2 cup soymilk

2 cups flour

3/4 cup Dutch process cocoa

1 tsp baking soda

1/2 tsp salt

3

/4 cup canola oil

1 1/2cups sugar (or less, even)


2 tsp vanilla

1 cup chocolate chips
In a small blender (I like to use the little container-chopper attachment on my hand blender for this), grind the flax into powder, then add soymilk and blend. Set aside.
Sift together the flour, cocoa, baking soda and salt.
In a separate bowl, cream the oil and sugar. Add the flax/soymilk mixture and mix well, then mix in the vanilla. (I usually use electric beaters for this part.)
Fold in the dry ingredients in batches. Go ahead and use your hands when the dough gets too stiff for a spatula. Mix in the chocolate chips.
Roll dough into 1 inch balls and flatten into ~1 1/2 discs an inch apart on an ungreased (optionally parchment-lined) baking sheet.
Bake for 10 minutes at 350°. Remove from oven and let cool for about 5 minutes, then set them on a wire rack to cool completely.
The final steps are more important than they look! First, the cookies will not seem done after 10 minutes, but trust me (and Isa), and take them out. Similarly, do not try to remove them from the baking sheet immediately. They are still quite soft at that point and will fall apart. While still yummy, they won't be as pretty. (Ask me how I know this.)