Despite being a long-time veg*n and lover of bean curd in many forms, I was never really into marinating it. I'd tried, but it rarely seemed worth the trouble. Until I found this recipe in The Kripalu Cookbook, that is, and my life changed forever. Designed to be served cold, it is indeed delicious out of the fridge on its own or in a salad, but is also wonderful grilled, baked, fried, or just heated in the microwave. Even my self-proclaimed tofu-hating (and non-veg) roommate, who humors me by tasting whatever I cook, surprised us both by going back for seconds the very first time I made it, and, even more shockingly, has since asked me to make it again!
I usually cut the tofu into slices, but cubed it this time to facilitate skewering. It was hands-down the best grilled tofu I've ever had.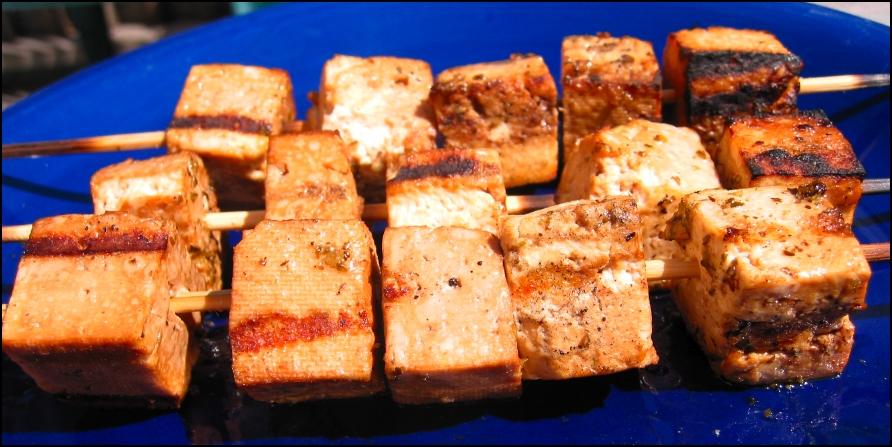 Marinated Tofu
Ingredients
1 pound firm tofu, drained
1/2 cup water
scant 1/4 cup olive oil
1/4 cup red wine vinegar
1/4 cup tamari
1 1/2 Tbsp mirin
1 tsp dried oregano
1 tsp whole cloves (or 1/8 tsp ground)
1/2 tsp dried marjoram
1 tsp chopped garlic
1/4 tsp salt
A grind or two ground black pepper
Wrap the tofu in a clean towel, top with a weighted plate or other heavy object for at least 10 minutes to press out water, or use your preferred method for same. (Don't do this if you're using silken tofu!)
In a small saucepan, combine the remaining ingredients and bring to a boil. Reduce heat to a simmer and cook for 5 minutes.
Cut the tofu into cubes or slices are desired and put into a bowl. Cover the tofu with the marinade and marinate overnight.
Add to a salad, grill, fry, eat plain, whatever. Or top slices with caramelized onions and bake. (Sometimes I include the caramelized onions with the marinade, too.)Â  This stuff is so good baked.