For about a month, I was getting a lot of corn with my farm share. Ah, those were the days! With 12-24 ears to work with, I could make anything. Anything! Well, anything involving corn.
On the left is Chipotle Corn Soup (or maybe it needs a better name?) and is something I came up with. The first time, I just processed the corn raw, which was great, but I felt that roasting would really add depth so I wanted to try it that way, too. Then the second time, I didn't roast because I was in a hurry. But after that, I took the time to grill the corn and really love the added smokiness. It's great either way, though.
On the right is a Bean, Corn, and Chili Soup from DD's Stillman CSA newsletter that Mark made while they were both over. The recipe called for pinto beans, but he also used Great Northern. All the vegetables except garlic were from my or DD's share (the cilantro and celery I'd frozen), with tomatoes and basil from the garden. Very different from the first soup, it was still delicious.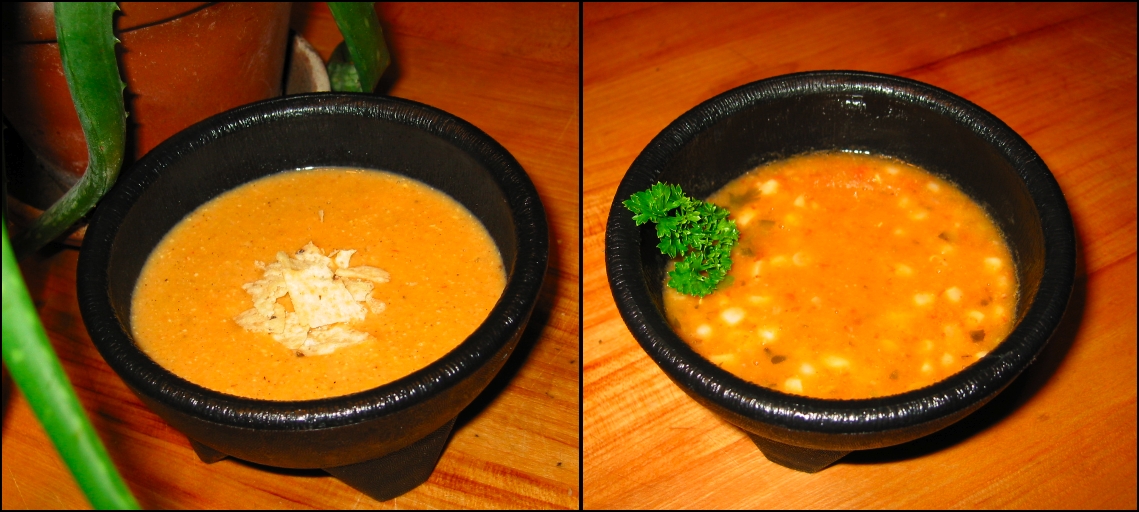 Chipotle Corn Soup
Ingredients
6-12 ears of corn (use what you got)
~1/2 cup light coconut milk
2-3 cloves of garlic or 1/2 tsp garlic powder
2 chipotle chilis or 1/2 tsp chipotle powder (or to taste)
1/2 tsp salt (or to taste)
1/2 tsp agave nectar (optional)
If you are roasting the corn, do that first, either in or out of the husk. Grill over medium-high flame until it starts to blacken. De-cob the corn, going over it twice with a knife to get all the creamy corn goodness. Meanwhile, if using fresh garlic, roast the cloves in the toaster oven.
Put the corn and garlic in a blender or food processor and pulse, adding enough coconut milk for the mixture to blend and shoving with a spoon or spatula as needed. Add salt and chipotle, tasting for desired level of spice. If using chipotle in adobo, the agave nectar is useful to counteract the vinegar, but not necessary when using dried or powder if your corn is naturally sweet.
Using a sieve or a food mill, strain the soup to remove the corn skins, then heat in a saucepan, again adjusting seasonings as desired. Garnish with cilantro (I didn't have any handy) or tortilla chips as desired.
Bean, Corn, and Chili Soup (from Stillman's Farm's newsletter)
Ingredients
2-3 cans pinto beans (we used one can pinto & one can Great Northern)
1 mild hot chili
3 gloves garlic
4 medium tomatoes, chopped (~2 cups)
2 medium carrots, chopped (~1 cup)
1 stalk celery with leaves
1 bay leaf
1 1/2 tsp salt
4 ears corn, de-cobbed
2 Tbsp chopped basil
2 Tbsp chopped cilantro
In a dutch oven or heavy stock pot, cook onion, garlic, and chili over medium heat 5 minutes or until tender. Add tomatoes and cook 15 minutes or until tomatoes break down, stirring often.
Add drained beans, carrots, celery, bay leaf, salt, and about 4 cups water (or more) to cover all the veggies. Reduce heat to low and simmer, uncovered, until the veggies are very tender, ~30 minutes or more.
Remove the bay leaf, and with potato masher (or immersion blender), mash the mixture to desired consistency. Stir in corn, basil, and cilantro, and simmer 5-10 minutes more until corn is tender, adding more water if you prefer a thinner soup.