This is one my go-to farm share recipes, particularly early in the season when the cooking greens are flowing fast.  You can use any and all of them in this dish and it will cook down, resulting in a yummy nutritional powerhouse.  It's also easy to modify based on what you have handy, and I provide several alternatives here.  Go with what you've got!
I've shared it before elsewhere and in the past few weeks, have had four different people tell me they've made this dish.  If you like peanut butter, if you're not sure how you'll use up all those beet, turnip, mustard, spinach, kale, and whatever other greens, give this a try.  It freezes well if you want to put it by for later.  I also used it as a pizza topping last year at Firefly with great results.
(I kept putting off posting it here because I didn't have a good picture, but I've let go of that.  This is what I've got and I keep forgetting to take a new one.  In the pictured version, I also threw in a drained can of "fried gluten with peanuts" from an Asian market that I had in the pantry.)
July 20, 2011
Posted in: farm share, greens, locally grown, peanut butter
No Comments
Is the food blog back?  We'll see, but for now, here's something: my first ever stuffed shells!  I've been wanting to make these for a while and finally assembled all the ingredients.  The roasted tomato awesomesauce was part of the large quantity I put by in the freezer last summer, the chard was from the first farm share pickup of the season, and the basil came from the porch garden.
As it often my way, I looked at an assortment of recipes and combined them into something I thought would work.  The "ricotta" is mostly a cross between two different recipes in Veganomicon.  My original plan was to mix in spinach, but since I had the chard, used that.  Good thing, too, because without it, I would have been pretty short on stuffing, so definitely pick a green, or if you can't stand the idea of vegetables mixed in, make extra ricotta.  You could also modify this recipe slightly for lasagna, which would maybe be a little less fancy but also save the stuffing time, though you'd have a higher pasta ratio.
The end result was quite delicious and I would definitely like to make this again.  Leftovers have been fantastic.  Even with the work of stuffing the shells, it was still pretty fast, and the most time-consuming part was our friend M. (who is a wonderful person, but a little slow in the kitchen) tearing and washing the chard.  But if you use frozen greens, this is *really* fast.
June 20, 2011
Posted in: farm share, garden, pasta, tofu, tomato, un-dairy
No Comments
I want to apologize for my long absence. Not only have we been having some web server problems, but the shortened days have made it very difficult for me to take pictures, since my sub-par camera means I need the sunlight. Rest assured, I have been eating well, and on the occasion of my birthday, decided it was time to get back in gear.
I made several dishes for a potluck Thanksgiving dinner I attended, including a pumpkin pie with assorted goodies. Having decided that coconut milk would be just right, I was going to improvise my own recipe when someone posted one from The Savvy Vegetarian that was just like what I had in mind, so I went ahead and used that one. Then I roasted the pumpkin seeds (sweetly this time) with the idea that they might make a good topping. The next day, having chilled the pie sufficiently, I considered how nice a whipped topping would be, so I used the leftover tofu and coconut milk to attempt one, but while it would have likely been perfect out of a whip-it (and was quite delicious), it was too thin on its own. I thickened it a bit with some tapioca before deciding to just call it a sauce. It worked wonderfully on the pie as well as on the apple crisp I'd also made.
Yay for experimentation! Click through for the many recipes.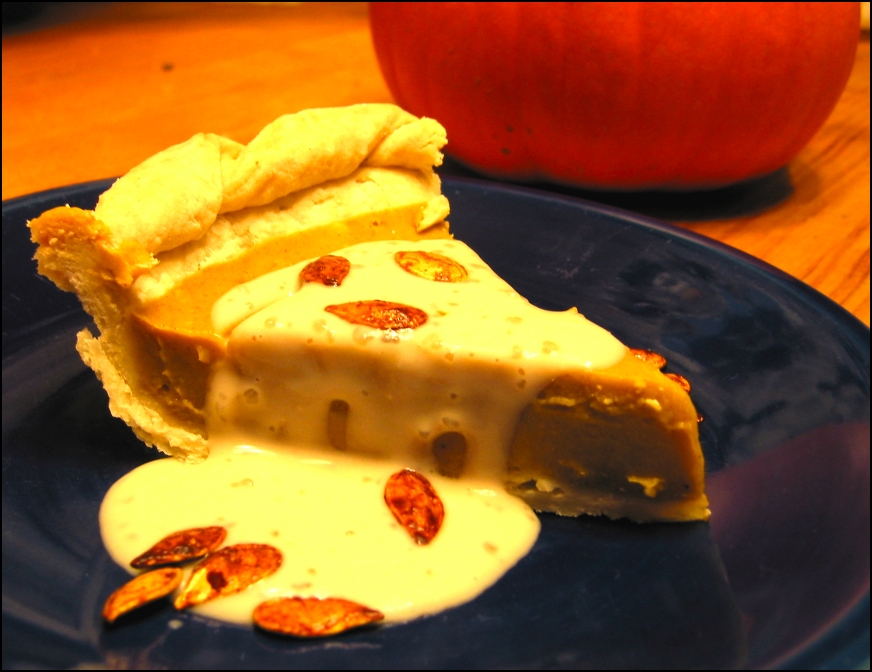 November 26, 2007
Posted in: baking, dessert, locally grown, pie, technique
6 Comments
I figured I'd try making ciabatta (ie, Italian slipper bread, as it looks kinda like a man's slipper) because it's gotten so trendy in the past few years and there was a recipe in my bread book. The ciabatta process is quite different from other breads. It requires a starter begun the night before and the dough is so wet, it is never actually kneaded. It remains wet and gooey until baking, in fact, but once out of the oven, this was one of the best breads I've ever eaten. My roommate and I would have finished both loaves within hours of baking if I hadn't put my foot down to insist we save some for later.
The important points to keep in mind when making this bread are avoid adding extra flour to the dough and handle it with a very light touch after rising. Extra flour is very tempting because the dough is so hard to work with, but really, don't do it except for when you need it to shape the loaves. After rising, do not punch down and be very gentle while shaping. Also, you really can't use too much flour for the shaping process. If you have silicone baking mats (sadly, I do not), this would be a very good time to use them.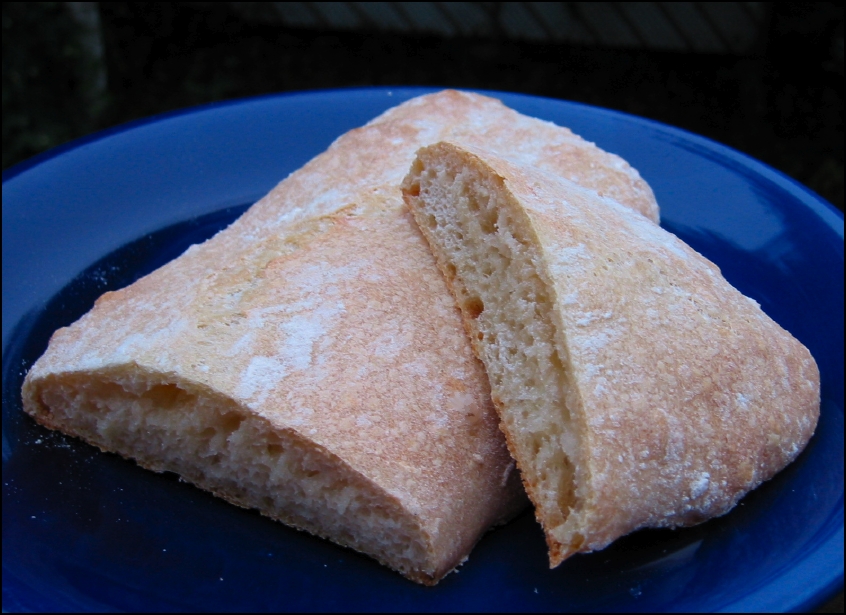 November 13, 2007
Posted in: baking, bread
No Comments
I love pickles and I always have. As a Jew and a native New Yorker, it is in both my nature and nurture so shouldn't surprise anyone. Perhaps more surprising in that I've rarely actually made them and thus far never made my favorites, but we start simple and work our way up. These two varieties of refrigerator pickles are very easy and quite yummy. I made the Swedish-style sweet slices for the first time last year when I was getting many many cucumbers in my farm share and couldn't come up with ways to use them up fast enough. I used the food processor's slicing disk to make ultra-thin slices and the results were fantastic (and never lost their crunch!) For the sours, I wanted something heftier, so I sliced them thickly by hand. I had far fewer cucumbers this year (sadness), so it didn't take too long. I used plain distilled vinegar, so the sours are quite sharp, whereas the sweet were in white wine vinegar. You could certainly use a nicer vinegar for the sours.
I wanted to can pickles this year and I'd tried to grow pickling cukes in my garden, but they didn't really flourish. I ended up with many small ones, useful (& yummy) for one or two salads apiece, but not really appropriate for pickling, and I neglected to buy a bushel from a local farm. Ah well. Still, these were all nummy and quite popular at potlucks.
Both of these can be scaled as far up as you want to go and keep quite well, assuming you can keep them from getting et.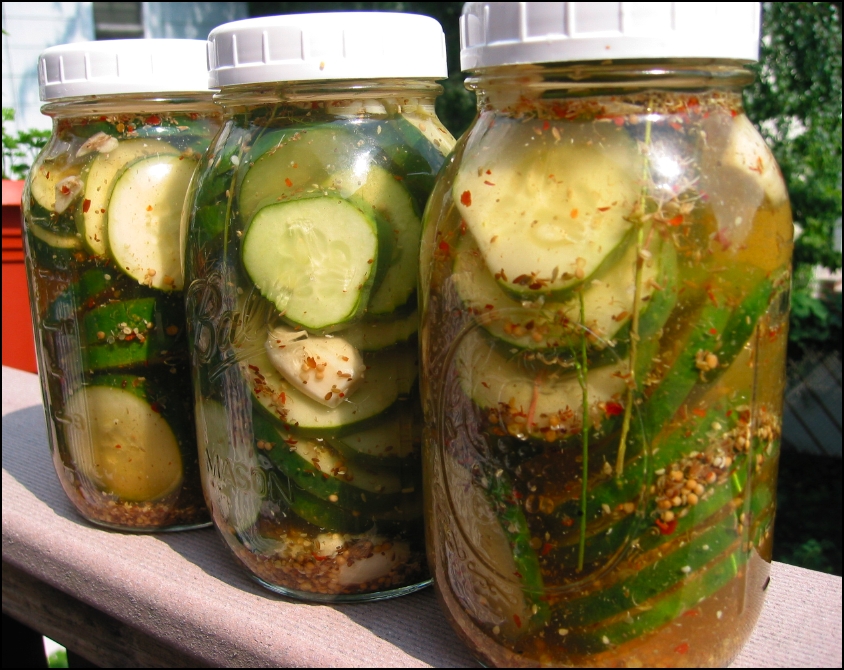 November 6, 2007
Posted in: farm share, garden, pickles
3 Comments
One day last week, I decided I wanted a sandwich, because I like eating sandwiches sometimes. But I had no bread in the house with which to make it, so I went to the market… to buy flour. I'd run out of whole wheat flour, y'see, and I don't like to use all-white for my sandwiches. I returned home and got things going. During the rise, I ate some peanut butter out of the jar. That evening, a friend of my roommate's came over and cooked dinner, so by the time the bread was done, I'd been fed. But I did have a very yummy sandwich the next day, anyway. (The final irony was that after I finished baking, I realized that I did, in fact, already have bread in the freezer.)
This was actually my first time baking bread in a loaf pan, and the lesson learned was to grease more thoroughly next time (or acquire a non-stick or silicone pan). I couldn't find a recipe that sounded just right, so I mixed some up, based largely on the pain ordinaire (fancy-speak for basic bread) in Ultimate Bread
. I think I slightly overbaked, but the long process of getting it out of the dang pan may have been a factor there, too. Although I called this whole wheat, like most whole wheat breads, there is still a fair bit of white flour. After a few days, I did what I always do with my sandwich bread and froze the remainder in slices. It toasts up beautifully from the freezer.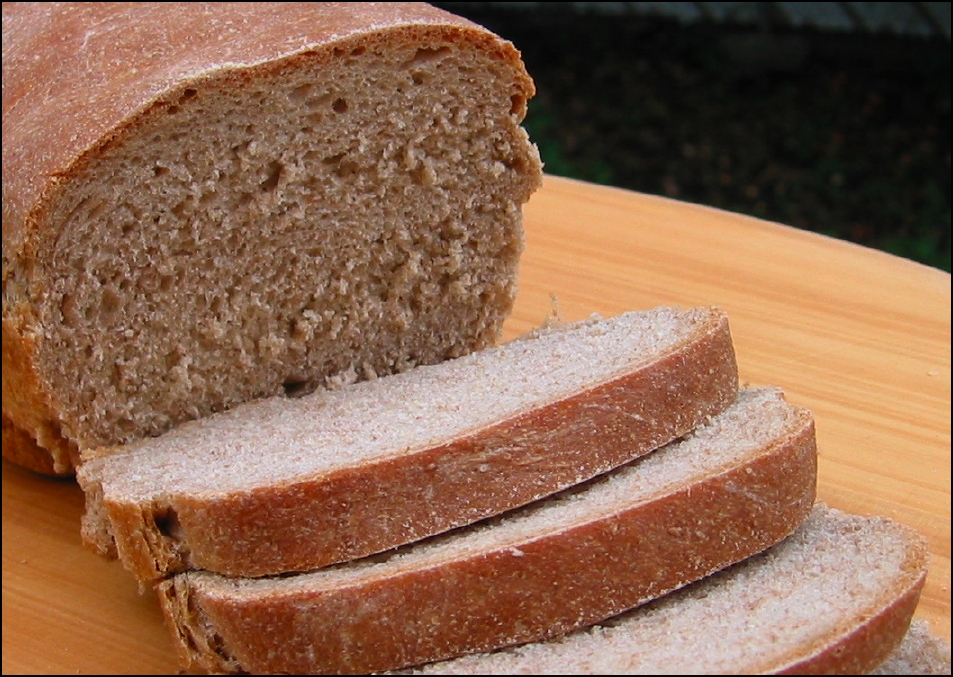 October 23, 2007
Posted in: baking, bread
2 Comments
Beware these cookies: they can be dangerous! Chewy, and delicious, and so rich, it's hard to eat more than one or two at a time, but as soon as you're able, you'll want more. Another gem from Isa at The Post Punk Kitchen, the original calls for too much sugar (as do many of her recipes, but it's a minor flaw that is easily corrected), but other than that, these cookies are pretty much perfect.
I have no doubt one of the keys in these in particular being so yummy is the really good Dutch process cocoa that my roomie acquired at Amsterdam's Schipol Airport during a layover. While I'm sure you could get yummy results with regular cocoa, it would throw off the acid balance and who knows what might happen.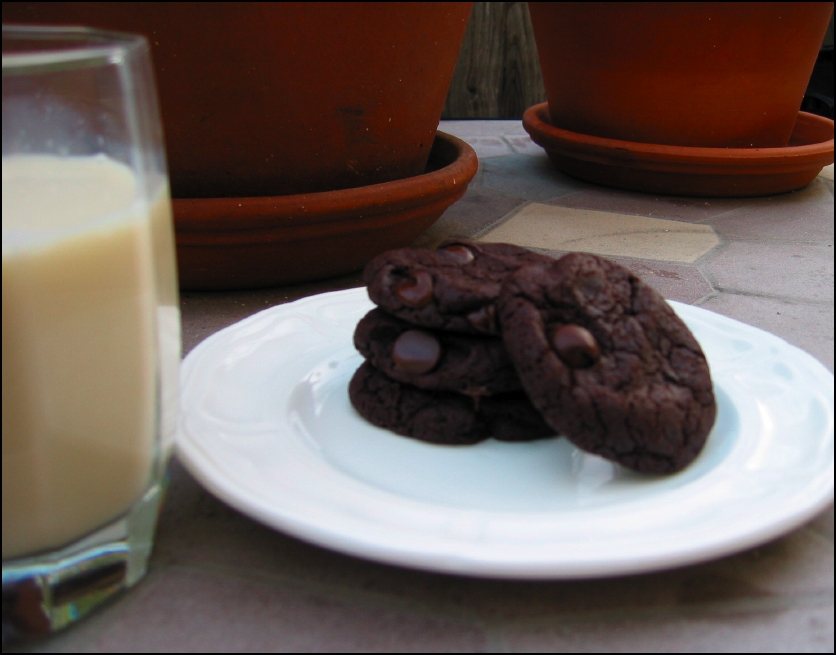 October 19, 2007
Posted in: baking, chocolate, cookies, dessert
4 Comments
Despite being a long-time veg*n and lover of bean curd in many forms, I was never really into marinating it. I'd tried, but it rarely seemed worth the trouble. Until I found this recipe in The Kripalu Cookbook, that is, and my life changed forever. Designed to be served cold, it is indeed delicious out of the fridge on its own or in a salad, but is also wonderful grilled, baked, fried, or just heated in the microwave. Even my self-proclaimed tofu-hating (and non-veg) roommate, who humors me by tasting whatever I cook, surprised us both by going back for seconds the very first time I made it, and, even more shockingly, has since asked me to make it again!
I usually cut the tofu into slices, but cubed it this time to facilitate skewering. It was hands-down the best grilled tofu I've ever had.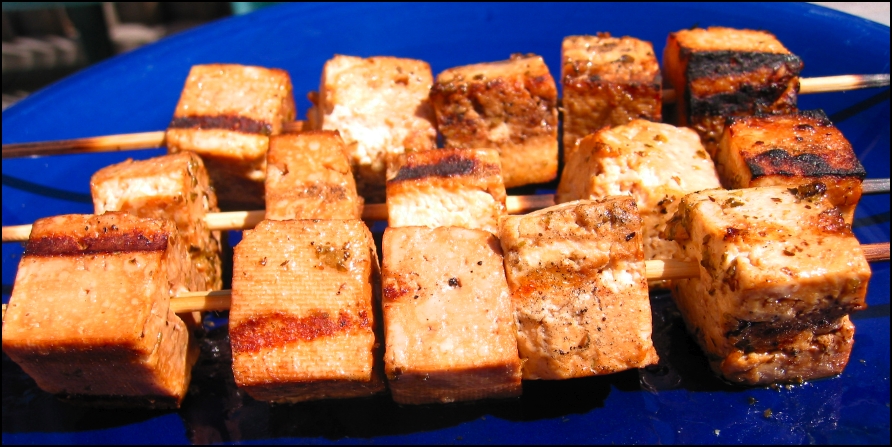 October 17, 2007
Posted in: grill, tofu
5 Comments
For about a month, I was getting a lot of corn with my farm share. Ah, those were the days! With 12-24 ears to work with, I could make anything. Anything! Well, anything involving corn.
On the left is Chipotle Corn Soup (or maybe it needs a better name?) and is something I came up with. The first time, I just processed the corn raw, which was great, but I felt that roasting would really add depth so I wanted to try it that way, too. Then the second time, I didn't roast because I was in a hurry. But after that, I took the time to grill the corn and really love the added smokiness. It's great either way, though.
On the right is a Bean, Corn, and Chili Soup from DD's Stillman CSA newsletter that Mark made while they were both over. The recipe called for pinto beans, but he also used Great Northern. All the vegetables except garlic were from my or DD's share (the cilantro and celery I'd frozen), with tomatoes and basil from the garden. Very different from the first soup, it was still delicious.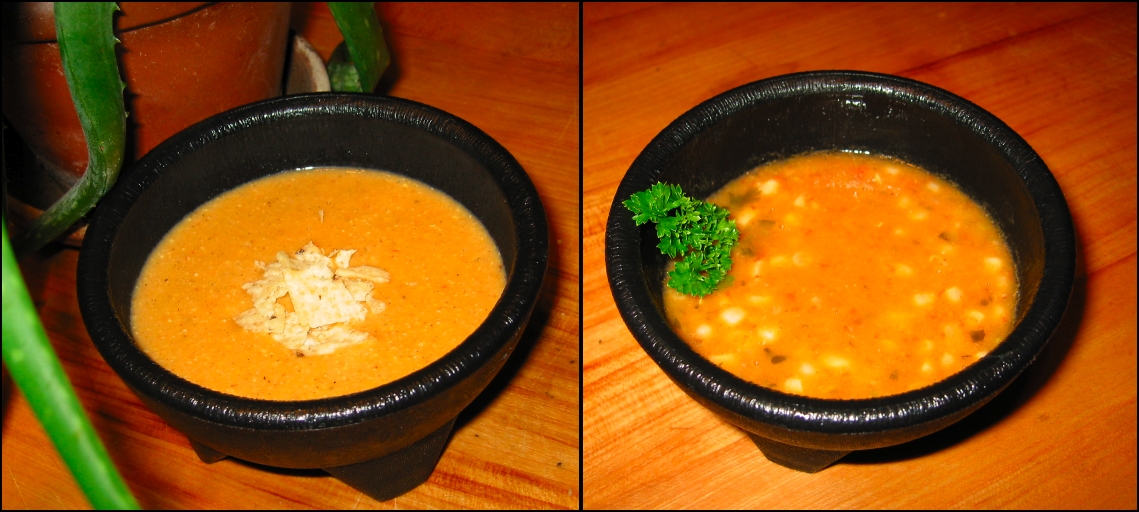 October 9, 2007
Posted in: corn, farm share, garden, soup
No Comments
For a few weeks, we've been getting tomatillos in the farm share and, as strangely cool as these weird little things with their papery husks are, I didn't really know what to do with them.  Once  had a couple of pints (which later turned into three), I knew something had to be done so I decided to use it all to make a big batch of salsa verde, aka green salsa, aka tomatillo salsa.   Googling around turned up this recipe, which looked good to me so I stole it almost verbatim.  As an added bonus, I used  share cilantro that I'd previously frozen into ice cubes as well as share onions I'd chopped and frozen.  It all worked out quite well.
In addition to eating it with chips (shown are Trader Joe's Flax Seed Tortilla Chips), I think it'd work very well over quesadillas or other spicy dishes.  Last night, DD and I grilled some tempeh rubbed with a hot cajun mix and the salsa made for an excellent topping.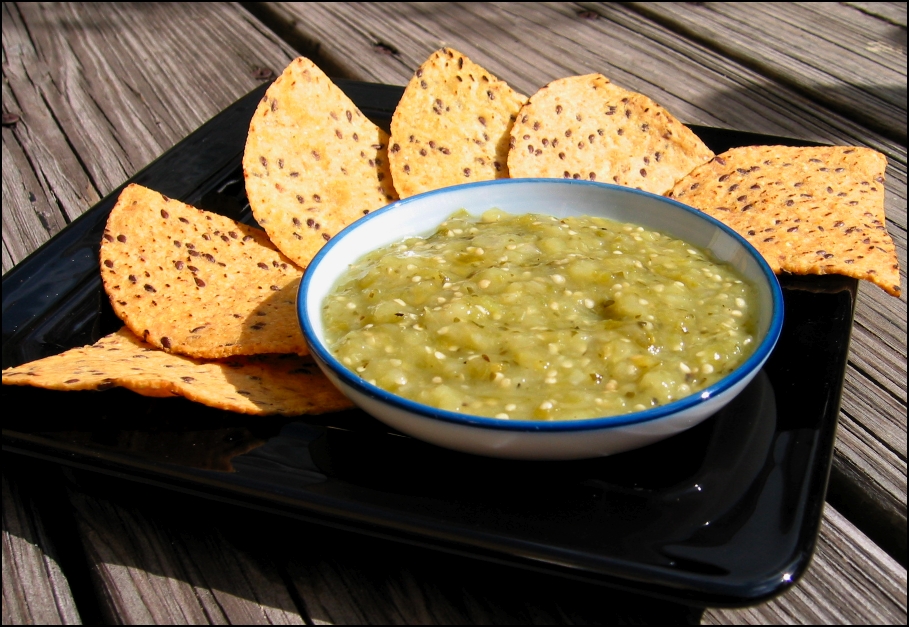 October 5, 2007
Posted in: condiments, farm share
No Comments